Post by nemolives on Jun 20, 2018 12:31:48 GMT
Just leaving this here, because it would be nice to have a final historical record on Shroud Unlimited's forums too, as the end game begins and what we predicted would happen occurs.
The title quote is from one of "jammaplaya"s well known sock puppet accounts on the official forums,
and comes in the middle of a thread where Starr Long admits Portalarium are downsizing, and have let go major staff, including Lum the Mad
. Of course, they're deceptively panhandling right until the end, and are claiming that it's all in preparation for starting development on Episode 2. Remember when they said Episode 2 would require a successful launch, yet they had a disastrous launch? Never mind that, here comes the Stretch Goals again! Remember when the Stretch Goals were a terrible idea and one had by someone who since left the company? No you don't, that never happened, they're a wonderful idea again...
Greetings Avatars,

Now that we are almost complete fulfilling our Kickstarter promises (brewing coming online in R55, physical rewards shipping very soon, progress being made on castle defense, etc.), we are adjusting our team size to better match our current monthly revenue. This will give us the balance we need to begin work on Episode 2 while ensuring we can support the online service. To do that means having, at least for now, a smaller team.

Right now we will shift our focus from creating new content to polishing our existing systems. This means making a stronger new user experience, fixing bugs, reworking the quest system, performance improvements, user interface polish, and more. At the same time we will continue the Tier adjustments in progress which will rework our existing scenes to more appropriate difficulty levels based on our current player population.

You will be a big part of our preparations for Episode 2 as we relaunch the Stretch Goal Store! You will get to vote on some of the Episode 2 features by purchasing rare items related to Mounts, Flexible Lot Placement, the Elven Playable Race, and Pack Animals. Stay tuned for more information soon!

Darkstarr & Lord British

I just want to say two personal things here though, where you can't abuse Reddit's poor moderation or the broken individuals in control of various sub-reddits to ever get it removed.

Firstly, despite all the year and a half of desperate gaslighting, none of you idiots and hate filled morons, on all sides of the debate, have ever made me doubt for a second my own wisdom or knowledge;
I predicted exactly when they'd have to go to maintenance mode
. Multiple times in the lead up to Launch in fact, and I deliberately used the same word every time to ensure even if my account was removed, you could still google the comments quickly, simply by remembering how I phrased it. All that immature, nasty little behaviour, and yet the facts remain. It was never about caring what anyone of you, critic or insane cultist defender, thought of me. It was always about warning decent people of the actual facts. I did that, and continue to do that, and I continue to have been not just right, but
incredibly accurate
in doing so.
And secondly... a big thank you especially to "jammaplaya". Although Portalarium so far are keeping very quiet after receiving official notification of beginning legal action against them, if you'd not personally put them in a situation where they had to choose between doing the right thing, or openly defending someone stalking and harassing their user base, these final days wouldn't be quite so disastrous and depressing, would they? Despite endless warnings, you kept escalating to more and more criminal behaviour because you didn't have the sense to realise that sooner or later, you'd run into someone prepared to call your bluff.

For those who don't know, the title quote comes on an account "jammaplaya" purchased from a previous backer called "Sempiternal Dragon". He then used that account to make more outrageous comments on, such as demanding Portalarium ask for a Cease and Desist against MassivelyOPs then negative coverage of Shroud; he used it to try and gaslight myself, and others whilst blackening the original owners name instead; when finally caught because those who knew the original owner demanded to know what was going on, all Portalarium did was make him change the name, which he changed to "Toodles" to try and continue harassing me (
even though it was and remains a joke at how obsessional he gets
); he then renamed it yet again to obsess about and harass Baron Drocis Fonderlatos; and all he had to do was rename it yet again to "hammadowna"...
He has of course been stalking and harassing people for years. And because he has multiple times, in public, claimed Portalarium have actively helped him do so; and for what ever reason, Portalarium dare not act against him (thus leaving the suspicion he has evidence of his claim), this toxic behaviour has helped completely collapse public support for the game. And proven me right. I was right all along to warn people because not only was the game poor, a complete mockery of what we were promised at Kickstarter, and an endlessly greedy F2P macrotransaction driven mess... but you weren't even safe within the community. All I ever wanted to do was warn people about the scammers and sociopaths that formed the core community, and the only way to avoid that was to actually be the moral, decent people the Ultima games originally taught us to be, and Lord British claimed to believe in. And... you couldn't do it. So now it's about to finally all be over. In large part thanks to one genuinely insane psychopath.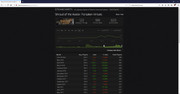 And what did you achieve in all that time? You got one Reddit account banned, after a year and a half of trying, whilst sinking deeper into mental illness because you hoped you were hurting and terrifying people who knew the truth about this horrendous project.
I only hope Shroud lasts another month or so, so I have time to force them to return my account back, and they can afford to pay at least the registration fees back that they'll owe me. And that it's not any remaining backers that have to pay even more for their corruption and incompetence, with yet another suspiciously timed Begathon. Sorry, I mean "Episode 2". Because you're definitely going to see that. They don't need to earn a lot more money just to keep the lights on, and fight off the incoming legal issues. No no no, keep believing, keep spending, even if it depresses you!
Meanwhile, bye Lum; Bye everyone else being let go; including someone who might prove problematic to have on staff later when it's asked how "jammaplaya" got multiple passwords that matched ones at Portalarium, who ever that could possibly be. Hope the self-rationalisations you've used to abrogate moral responsibility whilst this appalling project went off the rails and ploughed through innocent people's finances stay strong over the following years of historical judgement. You're gonna need it too.